How to Send Payment Reminder Email
Finding the correct way to remind a customer of an overdue payment can be tough. Why not let us do it for you? With our fast and friendly email reminders.
What is an email payment reminder?
An email payment reminder is a simple and friendly way for you to remind your customer of an outstanding payment. PayRequest offers you a pre-made payment reminder with the link, saving you the time and worry of writing a reminder yourself.
Not only does this make your job a whole lot easier, but it's also great for your customer. PayRequest email payment reminder needs no awkward reply from your customer. All they need to do is click on the payment link attached to the email payment reminder, and pay with their payment method of choice.
PayRequest accepts all payment methods and currencies making it easy for customers to complete the payment.
Once the payment has been paid, you will receive a notification. It is also possible to track the status of your reminder (delivered, opened, paid). All your received payments will be logged into your private payment dashboard.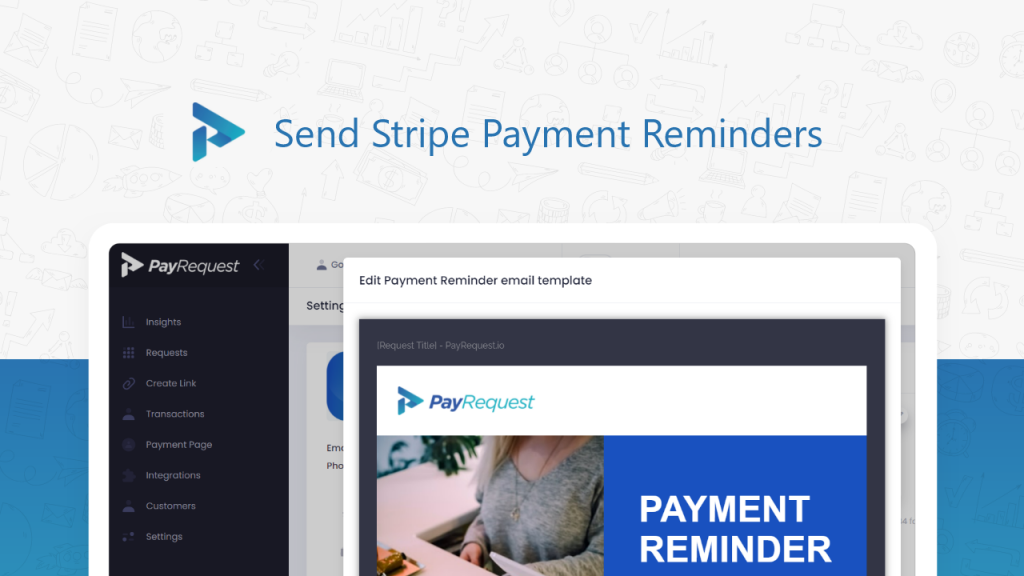 How to send an email payment reminder
Like what you've heard so far? Sending an email payment reminder is easy, and you can start today.
Sign up for PayRequest
Once you've signed up to PayRequest for free and followed the onboarding step (this takes just a few minutes), you will be able to create and send your first payment reminder.
Create email payment reminder
Create your first email payment reminder using PayRequest's easy-to-use tools. You can do this via your private PayRequest payment page.
Share It
You are now ready to share your email payment reminder. Once you have created your reminder you will have to option to share it as an SMS or email. Select the email option, enter the necessary information, and your reminder will be sent.
Monitor It
Once you have sent your reminder it is possible to monitor its status. This means you won't be left hanging and waiting for a response.
Notification of Payment
Once the customer has completed the payment you will receive a notification. All payments are processed in real-time
Invoice
If required, it is possible to share or print an invoice of the payment for your customer.
What is payrequest?
As well as email payment reminders, PayRequest offers other features such as multi-lingual payment requests, QR code payments, subscription payments, and more.
PayRequest offers an all-in-one payment platform, allowing you to accept all payments worldwide with ease. No restrictions and all from one platform.
Ready to send your first payment reminder? Sign up for free today!
Want to learn more about PayRequest? Click here